If you've been in the gallery lately, or even just keeping tabs on us online, you may have noticed some fresh new art lately. During the past few months, TSUGA has reached out in the local artistic community and is happy to represent these new artists:
Bruce Barnbaum
Barnbaum has been professionally photographing since the 1960s and continues to use large 4x5-inch film negatives to produce his breathtaking black-and-white images. He strives to capture how he feels about his subject. Never having set out specifically to act as an environmental photographer, his photos of nature and our nation's public lands have inspired many to do more to preserve our planet. He has published several books pertaining to his photographic career and technique, and he teaches photography workshops out of his Granite Falls home.


Brooke Borcherding
Originally from California and transplanted to the Pacific Northwest, Borcherding's deconstructed landscapes are captivating. Abstracting the forms of traditional landscape painting, her brush spreads bold, bright, eye-catching strokes of acrylic paint across the canvas.







Aaron Hazel
Hazel grew up in Idaho and studied fine art at Whitman College in Eastern Washington. A collegiate athlete himself, it is not surprising that his artwork carries such intense energy. Hazel's work has a raw, emotional, fauve strain. His portraits offer particularly striking depictions on public figures ranging from our own Seattle Seahawks to Harriet Tubman to Bill Gates.










Kimberly Balla
Balla's technique is daring and experimental. We love that. Sometimes great work is produced by fine and precise brushwork - sometimes it comes from the natural melding of chemical elements. Balla combines various media to produce beautiful renderings wrought from the chemical reactions in her studio. Her work is layered and carries a depth not always found in abstract, non-figural painting.











Jan Tervonen
Tervonen's work is lively and colorful, marked by strong linear elements. Her biggest influences come from mid-20th century modernism and traditional Japanese sumi-e. She boldly mixes media to create compositions that are energetic, vivacious, and stir the viewers' imagination.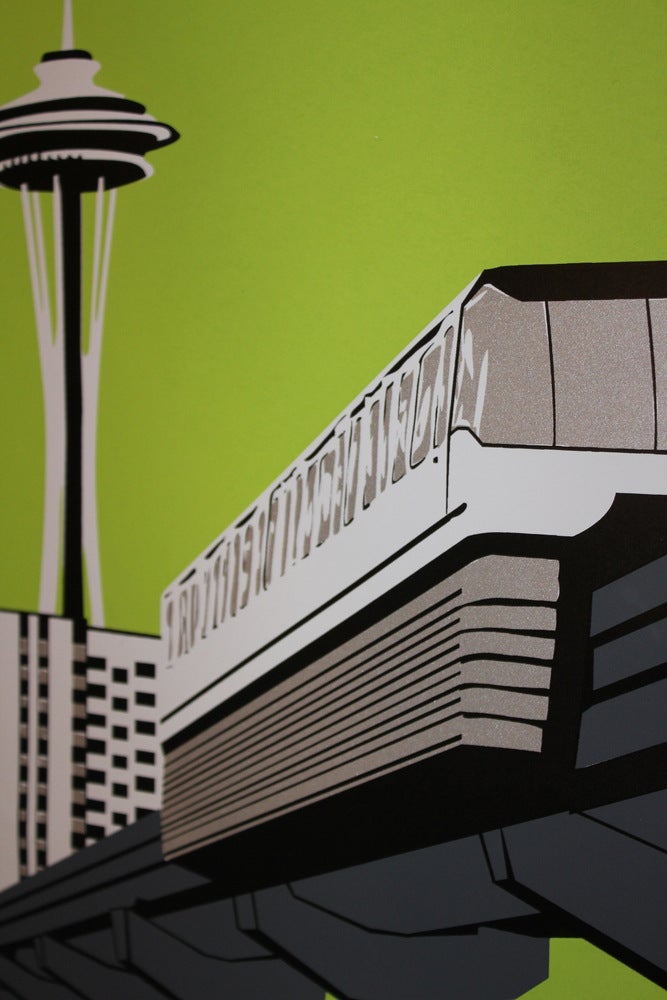 Jack Crawford
Crawford presents bold graphic prints that celebrate Seattle culture. A local to the Edmonds area, his work features our craft brewing culture, Pike Place Market, the aura of the Pacific Science Center, and the excitement that accompanied the Seattle monorail at the World's Fair in 1962.














Jeremiah Hammer
Hammer came to us and we were enchanted by his mystical figures and vignettes into fantasy. Drawn almost entirely by hand, his precise work is often mistaken as having been digitally produced. Hammer depicts ethereal worlds we never imagined, but that unfailingly leave us wanting more.







Margaret Tollefson
Soft watercolors reproduce the colorful and graceful dance of light seen in our natural world. Her compositions offer a nostalgic take on day-to-day life. Tollefson appreciates the beauty and power of light - sensitively harnessing its effects in her painting.












Michal Loudal
Entirely self-taught, Loudal's work is unique in its juxtaposed elements of abstraction, fantasy, and sheer celebration of color and form. Though his compositions are evocative of our own memories and images from far-off destinations, many of his subjects are the result of pure imagination. His paintings reflect an unbridled playfulness and energy.











Judy Selogy
Selogy's oil paintings and mixed media compositions are vivid and unrestrained. Her abstract pieces displayed at TSUGA Fine Art & Framing seem almost alive with bold, assertive energy as thick layers of paint spill and cascade across the canvas. Her daughter captures Selogy's aesthetic mindset best - "Paint first, think later."


Work from each of these artists, as well as many more, can be found daily in our gallery on Main Street, in downtown Bothell. Come by for a visit and fall in love!
Associated Artists
Associated Exhibitions
Associated News