Art enthusiasts and aspiring artists often look at a painting and wonder, "How do they do it?"
We've recently had the pleasure of getting inside the artistic mind of master pastel artist, Jannelle Loewen. Below, she presents her process for painting Pink Sunrise.
Pink Sunrise:
I chose a large, peach colored 'Mi Tientes' sanded paper and drew in a very light general sketch using a darker gray pastel pencil. Next, I put in the sky colors - starting with the ocean horizon area and the sky holes behind the tree to the left. It's important to make compositional decisions with the sky holes as well as deciding where your focal point will be. How do the sky holes, the horizontal color bands, the darker shapes, and the other bands of colors all coordinate with the focal point?

I put in the oranges and greens of the big rock focal point, all in warm neon colors. The warm tones of the focal point and the background will contrast sharply with the darker, cooler colors and values of the shaded foreground areas.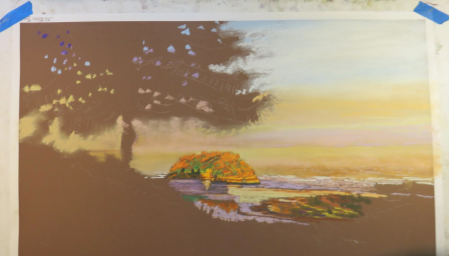 Next, I put in the darker and cooler colors - 'Terry Ludwig' darks, including: dark forest greens, dark reds, dark grays, blacks, and kelly greens. A variety of shapes and colors help with general visual interest. Remember – never duplicate the same shape, size, color, and texture for interest. There is nothing more boring than 3 or 4 humps of the same color, size, and shape – whether they be trees, bushes, rocks, or the like. Next, I took a photo of my work and put it into a photo editing program to play around with the colors and contrast to see how I could improve the painting. I discovered the brights were fine, but the dark contrasts needed darkening. Value is always something that we usually can improve on.

Jannelle Loewen regularly exhibits at Tsuga Fine Art & Framing. Our selection of her work features several beautifully framed larger compositions as well as many unframed originals. She is noted for her dramatic contrasts and sensitive depictions of light. Come to the gallery and see more of her breathtaking works in person.
Associated Artists